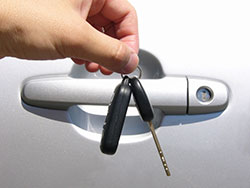 Vander Locksmith
It's a common experience for everyone: You find yourself standing outside your front door, realizing that your keys are locked inside. Whether it's your home, your vehicle, or even your workplace, those small keys can easily be misplaced, stolen, or accidentally left behind on the other side of the door they're meant to unlock.
At 4 Got Keys???, we understand that keys have no regard for your schedule, whether it's the time of day or night or the commitments you have to keep. That's why we're available 24/7 to dispatch a locksmith to your location near Vander, NC, ensuring that you can quickly resume your daily routine.
If a lost key poses a security risk, we can address the issue by rekeying locks or completely replacing them. Additionally, we offer key duplication and lock installation services to provide you with greater control over access to your property.
We believe in transparency and customer satisfaction. That's why we provide free estimates for all our services, allowing you to compare our prices with others in the market. We are confident that you'll discover we offer the best rates in the area. Furthermore, we regularly offer special discounts on various services throughout the year. Make sure to check our current promotions to take advantage of these exclusive offers.
If you require the services of a locksmith, don't hesitate to call 4 Got Keys??? at 910-391-9726.